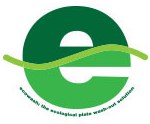 ECOWASH
The Environmental Plate Washout Solution
ECOWASH is the latest generation of environmentally friendly flexographic plate washout solutions. ECOWASH combines high productivity, low odor, health and safety advantages and ease of use.
ECOWASH features and benefits:
Low odor under normal ventilation conditions (10-15 turns/hour)

More agreeable, healthier work environment

A safer solvent

Improved worker safety
Non-flammable
Reduced environmental compliance costs

Rapid plate processing, low plate swelling

Faster drying times
Better definition and less dot loss
No "orange peel" effect

ECOWASH has a wide operating temperature window

Potential Energy and Insurance savings

Polymer and digital layer remains in suspension

Maintains processor clean, especially with digital plates
Lower maintenance costs and longer brush life
Higher, more consistent plate quality

No ADR Transport Regulation
Distillation:
ECOWASH is easy to distill using standard vacuum distillation systems.
Add-back Procedure:
After distillation, add ECOWASH at 10% of final volume
Top up, if necessary with fresh ECOWASH.
The plate solvent is a critical element to consistent plate quality. We recommend performing periodic tests of your distilled ECOWASH using the ECOWASH Calibration kit. The kit is an essential Quality Control tool that allows you to maintain your solvent in perfect balance over time. The ECOWASH add-back calculator indicates how much additives, if any, are required to keep your product in optimal working condition.
Please contact our technical support for further questions